Brisbane Roof Restorations
Roof Painting & Repairs.
Roof Restoration Brisbane. When left alone over the years, algae, moss, stains, and other debris can accumulate on your roof. The best way to bring back the life in your roof that has aged or been damaged due to Brisbane's severe weather is to have your roof restored.
What is a Roof Restoration?
Roof Restoration is the process of cleaning, repairing, and re-coating your roof. Roof Restoration is advantageous for all types of roofs, including Colorbond, Zincalume, Galvanised iron, Decromastic, Terracotta tile, and, of course, Concrete tile.
The roof restoration Brisbane process varies based on the type of roofing materials used. Restoring your roof is not something that you should do on your own. A roofing professionals' abilities are required to produce a high quality, long-lasting outcome when renovating or restoring a roof.
When do you need a Roof Restoration?
Roof restorations in Brisbane is recommended when the roof is in good tact but needs a general overhaul and re surfacing. If your roof is still in excellent condition, there is no need for a complete roof restoration. In some roofs, basic repairs or simply pressure washing may be enough. If the roof has worn-out to the point where it looks shabby… A complete roof restoration is recommended. The Brisbane Roofing Co team of trade professionals will advise and guide you through the options available.

Consider the following scenarios:
Water Damage inside the Roof – If you observe black spots or streaks suggesting water damage inside the roof cavity or attic, this is proof that water is coming through the roof. If you notice light beams pouring in from the outside, this is also an indication that your roof is not effectively shielding your property.
Roof Sealant Problems – Roof sealants are utilised in many ways, including sealing gaps between components, and acting as an adhesive to secure a membrane to the surface. Even the strongest roof sealants are prone to cracking or shrinking with time, creating holes that enable water to get through.
Roof Tiles Problems (Cracked, Worn Out, Broken) – If you have a tiled roof, the temperature will deteriorate over time the coating and the tiles themselves, leaving them discoloured and allowing water through. You could also come across some cracked or damaged tiles, the most probable cause of a leaking roof. We specialise in tile roof restoration Brisbane.
Worn Out Gutters and Downpipes – When your gutters get worn or damaged, they will stop draining rainfall from your roof. It can result in more damage to your roof and the interior of your home.
Roof Structure Sagging – Any drooping in your roof indicates that it requires repair. Failure to address this issue can gravely risk your property, resulting in rainfall gathering and eventually leaking into the structure. It may even result in a roof collapse!
Why do you need a Roof Restoration?
If you decided to proceed with a roof restoration, it equates to having an investment that provides you with several long-term benefits, including the following:
Maintain/Increase the Value of your Home – It is a wise decision to explore roof restoration before listing your property on the market. Being able to show off a new-looking roof typically results in a higher sales price, especially if you can show off a beautiful, authorised report on the roof's condition. Potential purchasers will be reassured that they will not have to spend more money on roof repairs, either immediately or in the coming years.
Extend Roof Life – A roof restoration may significantly extend the life of your roof by reducing the need for continuing repairs or roof maintenance, saving you a significant amount of money eventually. Neglected old, worn-down, and damaged roofs deteriorate over time and can hasten the depreciation of other property components. A competent roof restoration will prevent future damage while conserving and safeguarding the roof for many years.
Prevent Future Problems – With roof restoration in Brisbane, you are saving money by avoiding costly, preventable problems in the future. A broken tile may quickly lead to water incursion, and there is also the substantial risk of wet rot or even dry rot developing, which provides the ideal environment for the harmful dry rot fungus to grow. If you act now, you will save thousands of dollars in the future.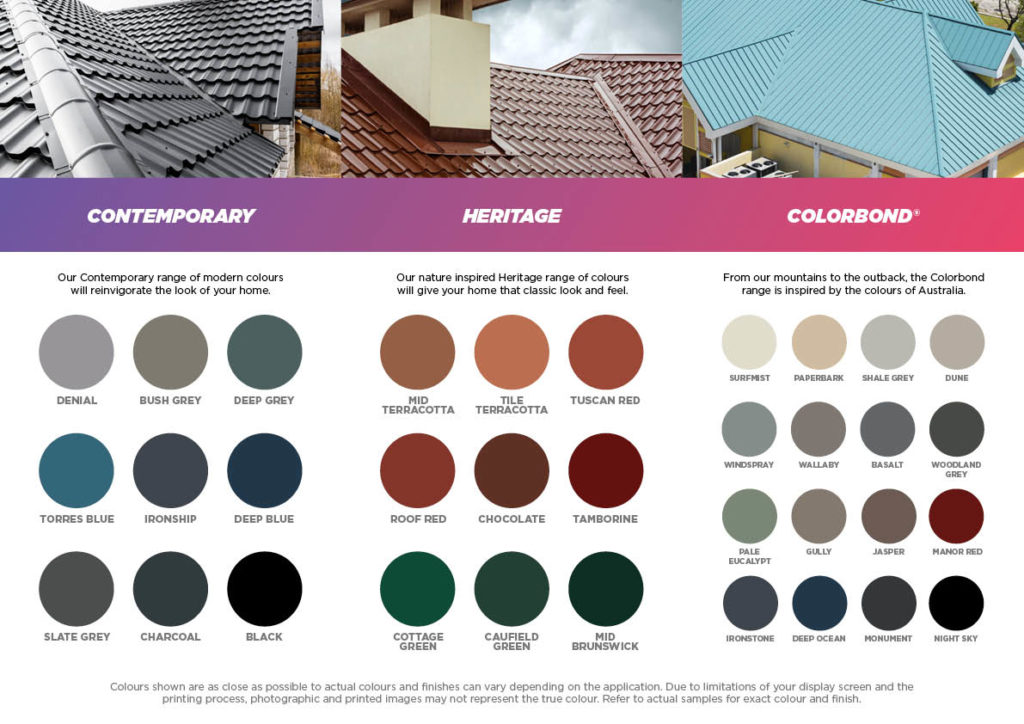 A Complete Range Of Colours Are Available.
What Processes are Involved in Roof Restoration?
Roof Cleaning – Pressure washing your roof with the newest in high psi pressure washers to remove moss and lichen; a cleaned roof has a longer life expectancy and is ready to be resprayed.
Re-bedding – Re-bedding is a procedure in which professionals remove all the old mortar from the ridge caps and replace it with fresh mortar, ensuring that the ridge caps last for an extended period without fractures or loose mortar.
Repointing – Repointing is a technique in which professionals point up all the ridge caps in flexible pointing. Flexible pointing is a rubberised compound that is put on top of the re-bedded ridge caps, and there are no fractures produced by severe winds or house movement.
Valley Replacement – As rusted valleys cause leaks and destroy interior ceilings and walls, new valleys are placed and let dry to ensure long life and no more leaks.
Roof Priming – After the roof has been cleaned and dried, it is time to begin the painting process. A roof primer aims to produce an adhesive bond between the tiles and the topcoat. A good primer will assist the tile in attaching better to the topcoat, prevent the tiles from corrosion, and provide a beautiful finish.
Roof Painting – Roof coating, also known as roof painting, is the last step in the roof restoration. When all of these are finished, your property will look brand new and safeguard you for the following years.
Why Hire Roof Restoration Professionals?
When you hire professionals for your roof restoration Brisbane, you are assured that you will be provided expert services.
These professionals specialise in roofing services such as roof repairs, maintenance, and restorations. They take satisfaction in knowing that they give high-quality services at affordable pricing after providing restoration services to numerous homes for decades. These specialists have built a good name around Brisbane by providing professional roof restoration services for many years.
If you think you require a roof restoration Brisbane, do not hesitate to call roof specialists for a free quotation and discussion of your choices. Roofing professionals are standing by to answer any questions you may have and to provide you with the direction and support you require to get your roof restored.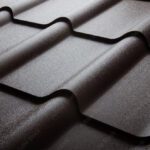 If you are looking for a roof restoration near me… Brisbane Roofing Co are your roof restoration specialists. Roof restoration north Brisbane & quality roof restorations.